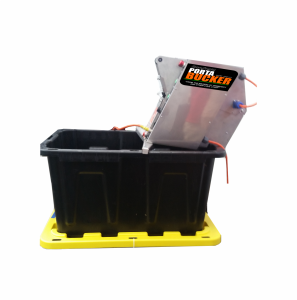 Remove 100 pounds of DRY or Wet Flowers from stems or vines in 8 hours! (1)
The average bucking time per pound is four – six minutes! Faster bucking means less processing cost. More importantly, the Skinny Piranha Portabucker™ cuts flowers from stems reducing bud destruction caused by competitive Bucking machines.
PortaBucker™ is Easy to use, adapts to your specific product requirements, is light weight, portable, and costs less than other older style buckers.
PortaBucker™ is the ultimate light commercial bucking machine for cannabis, hops, and specialty herbs.  Don't let size fool you.  This is a high performance, high volume bucking solution that sports variable speeds needed to adjust speed and power processing for different crops and various moisture contents.

Are there super secret hidden Skinny Piranha Technological features? Of course!
At the heart of variable speed performance is a high torque low voltage motor that runs quiet with minimal power demands.  Thus you reduce your carbon footprint and help to keep our planet GREEN! We combine all that with portability, durability, and ease of use.  A foot switch makes on/off and power boost operations possible while you are using both hands to feed stems to the bucker. Bottom line: the machine is fast yet more gentle on your crops and on itself.
And compared to current market price points for 
bucking machines from our competitors, you could easily own three or four PortaBucker™ machines for the price of one of the competitors'! That would provide four times to processing throughput.  PortaBucker™ swims circles around competitors' price/performance.
Before purchasing your next bucking solution compare our PortaBucker™ features, performance, testimonials, and value.
Technical Specifications:
Height : 14″
Depth  : 16″
Width  : 10″ w/ PSU
Weight : 36lbs
AC power : 110V 2A / 220V 1A
Speed : 10-25 inch/second
Foot Controls : on/off or boost
Motor : 24V 350W
Storage : 27 Gallon Plastic Tote (included)
Warranty : 2 years
Thank you for your interest!
(1) Actual bucking time depends on flower size, dryness, density, strain, and stem preparation.
(2) Model TB5.1 is configured with rear mounted touch panel controls  / Model TB5.2 is configured with side mounted rotary dial controls.