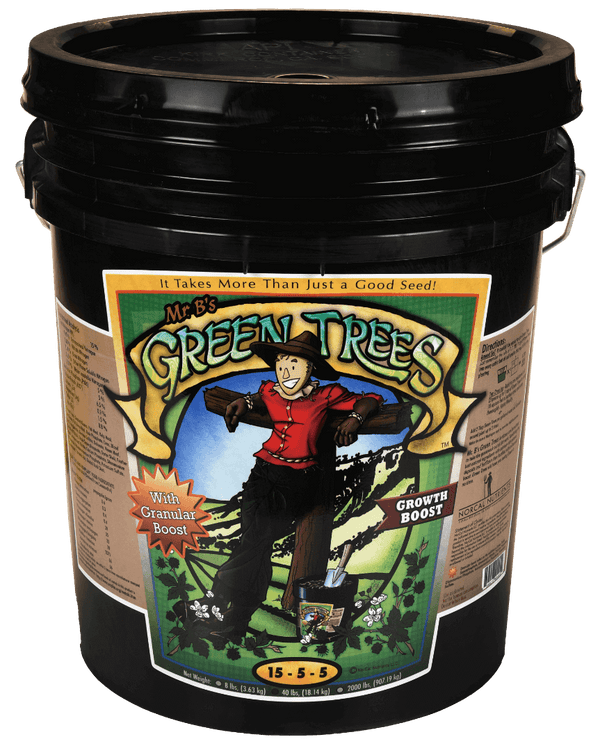 The best of both worlds! A customer favorite for pushing the limits of growth, our Organic/synthetic hybrid formulations start with an organic base and elevate the NPK with the addition of synthetic fertilizers including Urea and Triple Superphosphate. When you're looking for that "boost" in your crop and don't mind the use of synthetics, Mr. B's Green Trees Boost brings explosive growth and flowering from start to finish. What good are big plants if they don't produce accordingly? Creating the perfect balance of a high NPK for flower production, while staying below the threshold that puts mycorrhizal fungi into dormancy.
Our Bloom Boost 2-10-10 is the final step in a legendary harvest. Crush the competition with the voluminous, dense flowers you've only heard about. 
Like the organic version, our All-Purpose Boost 8-8-8 sets the standard for the versatility of use through all stages of plant growth. If there's only one product you can choose from the entire catalog, this is one capable of providing the widest array of nutrients for your garden. Practically foolproof in the application, this formulation is appreciated by both the novice and master gardener alike.
Our Growth Boost 15-5-5 is the jet fuel you need to accelerate vegetative growth to the stratosphere. With over twice the nitrogen of the organic growth product, plants can work double-time for verdant, unbridled branching, and foliation.