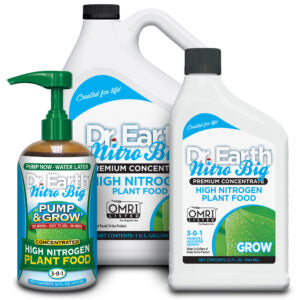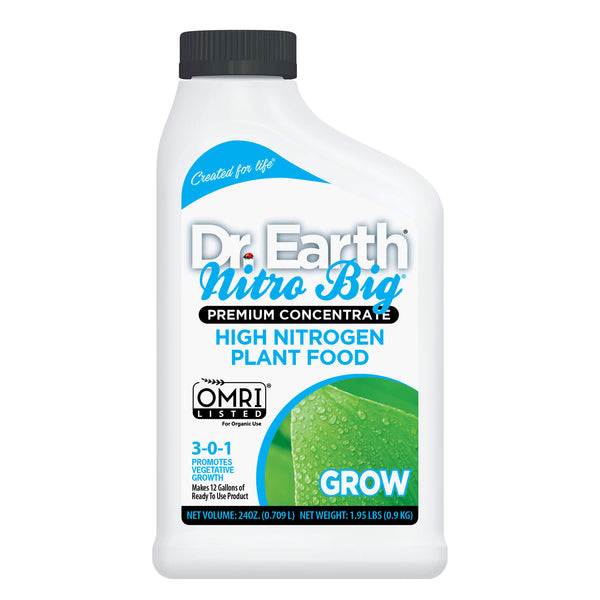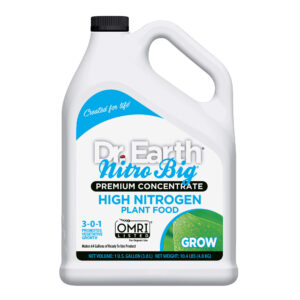 Dr. Earth Nitro Big High Nitrogen Plant Food creates lush compact growth that's capable of supporting heavey fruits and flowers. It includes potassium to enhance energy transfer and get aggressive growth rates.
Sustainably made in the U.S.A. from the highest level Human Grade whole-foods. By collecting human-grade ingredients from supermarkets, we upcycle would-be food grade waste into premium fertilizer. By harvesting the nutrients from today's food scraps to grow tomorrow's food, we are not only creating a premium product, we are helping to preserve our planet.
No synthetic ingredients or GMO infested chicken manure.
Promotes vigorous, hardy, lush and compact vegetative growth.
Organic Transparency; OMRI (Organic Material Review Institute), OIM (Organic Input Materials), CCOF (California Certified Organic Farmers) and NOP (National Organic Program)
Our 8oz. and 16oz. bottles come in a pump. Pump & Grow products are very quick and easy. Simply apply two pumps directly to the soil and water within 24 hours and it will feed your plants 100% sustainable nutrients for two weeks. Applying directly to the soil makes gardening easy with no mixing and no mess.