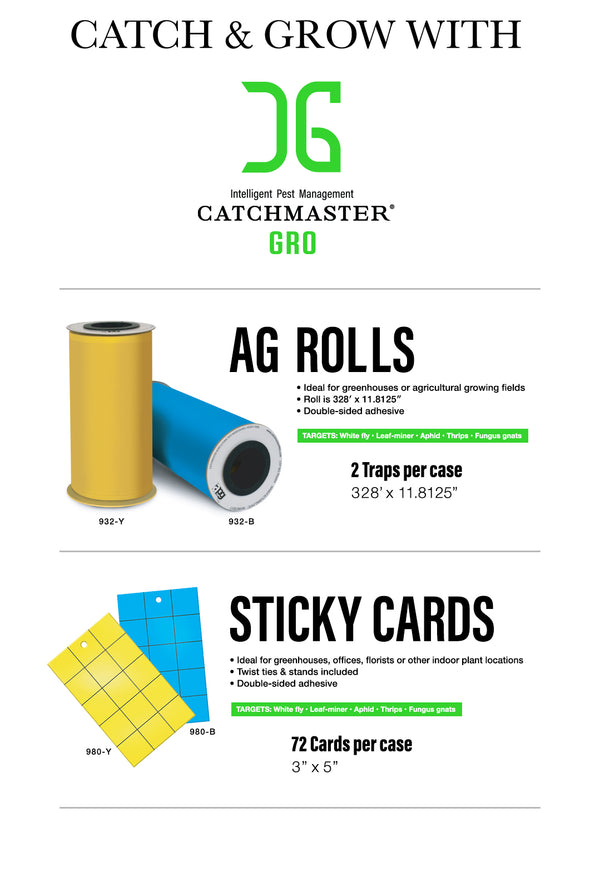 About this item
DESIGNED FOR RESULTS: Our AG Rolls were created to deal with various species of invasive insects such as white flys, aphids, leaf-miners, thrips, and fungus gnats. With this level of effectiveness, your crops will be safe and protected from invasive insects that would do you harm.

BUILT TO LAST: Catchmaster's AG Rolls are crafted with a huge catching surface, with each roll measuring to 328' x 11.8'' in surface, so no matter where AG Rolls are needed, either in the fields or in an indoor environment, there is plenty of surface to utilize in a single spool.

DURABLE ADHESIVE FORMULA: Our AG Rolls are made with a non-toxic and pesticide-free double-sided adhesive to maximize catching potential and surface space, so you can get the most out of each spool while also protecting what matters to you against a wide assortment of pests.

EFFECTIVE DEPLOYMENT STRATEGY: Catchmaster's AG Rolls can be utilized in numerous environments with varying levels of pests and temperatures, such as in greenhouses, agricultral growing fields, and crop nurseries. AG Rolls will always provide quality protection in any setting.

INTELLIGENT PEST MANAGEMENT: At our core, we are dedicated pest detectives. We believe in utilizing a science-based approach to integrated pest management. We call this approach Intelligent Pest Management. We leave no stones unturned when it comes to pests and we have unwavering conviction in our products.