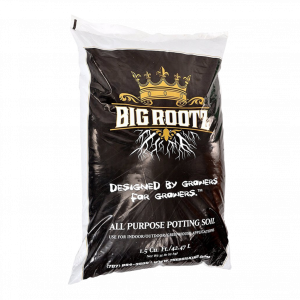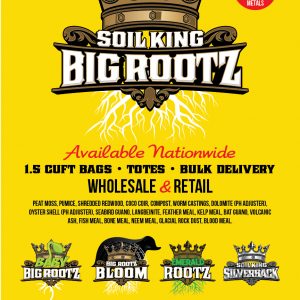 Soil pH Adjusted and Enriched to Maximize Root Growth
Big Rootz® is carefully formulated for professional growers, yet it's so easy to use that even novice gardeners can achieve growing success. Use it for indoor grows or outdoor greenhouses, or add it to existing soil.
This All Purpose Potting Soil is Big Rootz Flagship Product, this award winning blend is also certified green clean (CGC) and exceeds the highest quality standards. Big Rootz® contains everything your plants need to get off to a great start. Our expertly formulated recipe chains rapid release amendments with medium and slow release. This assures your plants what they need, when they need it.
Tested Pesticide Free and NON-GMO
---
Pay now and get priority on the delivery board! Applies to bulk yardage over 300 yards. Contact Sales@thesoilking.com for details.
---
Product Specs:
Carefully formulated and pH (6.5 to 6.8) tested for maximum results

1.5 Cu. Ft / 42.47 L of soil coverage up to 40 Cu.Ft

Research developed award winning proprietary blend

Provides increased nutrients and water uptakes to foster overall plant vigor
SOIL AMENDING INGREDIENTS:
Peat moss, Triple Washed Coir, Clean Sourced Compost , Worm Castings, Ligna Peat, Pumice, Seabird Guano, Langbiente, Feather Meal, Kelp Meal, Ferrous Sulfate, Green Sand, Bat Guano, Dolomite (as pH adjuster), Volcanic Ash, Fish Bone Meal, Neem Meal, Glacial Rock Dust, Rock Phosphate, Sulfate of Potash, Humic Acid, Blood Meal, Oyster Shell (as pH adjuster).